---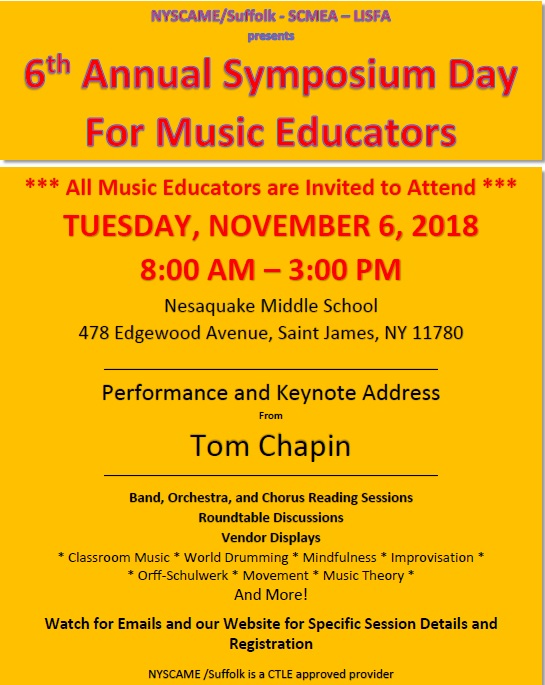 2018 NYSCAME Symposium Workshop Descriptions
Tuesday, November 6, 2018
8:00am – 3:00pm
Click Here for Online Registration
Registration Deadline Friday, November 2, 2018, 5:00pm
---
9:00am Workshop Sessions
What Can You Learn at LIAOSA?
Cristen Salisbury, Past President
Did you know that the Long Island American Orff Schulwerk Association offers 7 five hour workshops throughout the school year that are CTLE approved? Several of LIAOSA's executive board members are here to share with you some of our favorite tips, tricks, lessons and activities that we learned over the years from our AOSA approved clinicians. Come see what we are all about!
Tuba 101: Tips on how to start and stick with the tuba
Ryan Hayward
Learn fun and interesting ways to get your beginner students playing the tuba quickly and your older students eager to learn more! Performer and educator, Ryan Hayward, will introduce you to new ideas applicable to tuba students of all ages. Bring your instrument so you can learn and practice these ideas for yourself!
Decoding the Drinking Gourd
Megan Ashe
Transport yourself to the Pre-Civil War era at the height of American Slavery, where the journeys were perilous and the music was liberating. We will be integrating music, literacy and movement to facilitate the exploration and interpretation of the Negro Spiritual, Follow the Drinking Gourd, and the tremendous impact it had on the lives of the operatives and riders of the Underground Railroad.
Teaching Strategies in the Music Theory Classroom
Frank Doyle
Designed for high school music theory teachers on all levels, this workshop will address approaches that teach music vocabulary, contextual listening, harmony, ear-training and composition to motivated young musicians. The goal of completing the Advanced Placement course (AP) will be discussed through the lens of a two-year syllabus design. Participant discussion will be encouraged.
Balancing Your School/District Instrumental Music Program
Tom Gellert
In recent years there has been a marked decline in many school music programs where instrumentation is either too heavy in one area and too little or, non-existent in other areas. The challenge of recruiting, developing and maintaining your school / district instrumental music program across buildings and grade levels from its inception to graduation MUST be carefully planned and with cooperation from many parties (including parents). You and your colleagues CAN make this happen. Come learn about proven techniques that will help you to plan effectively to achieve a better instrumental program. It CAN be achieved!
Jazz Journey
Dr. Thomas Manuel
Been hearing about The Jazz Loft in Stony Brook? Thought about visiting but just haven't made it there? Take a tour of this 6,000 square foot museum and performance space. Learn about performance opportunities and trips for your students and school community.
Give them Roots: How to Introduce Young Musicians to American Roots Music
Taylor Ackley and the Deep Roots Ensemble
Taylor Ackley and members of The Deep Roots Ensemble will take you on a journey through music making in America. Using their own original repertoire as well as the standards of bluegrass, western swing, old-time and country music, participants will be guided through the process of how to introduce this rich musical tradition to students of all ages. This workshop is appropriate for vocal, string, and band teachers.
---
10:00am Workshop Sessions
The World is Your Oyster! Building Cross-Curricular Connections through World Music and Movement
Daniel Monaco
Music is truly a universal language; one that can take students on a tour of the globe from the comfort of your music classroom. In this session, we'll explore music from cultures around the world, using movement, instruments, improvisation, and technology to extract solid cross-curricular connections in geography, history, and language – all while meeting your general music objectives. Participants will walk away with activities they can implement right away to create lessons that connect every corner of the school campus, and beyond!
What about the Text? Poetic and Musical Imagery
Dennis Creighton
A closer look at the intersection of Musical and Poetic Imagery in choral music. Poetic Imagery can greatly inform our musical decision making but do we spend the time on it we should? This workshop will examine poetic devices and give lots of examples of how they are used by composers to create effect and/or mood.
Band Reading Session
Join your colleagues to play through a variety of new band music for a variety of levels. Bring your instrument.
The Art of Improvisation
Dr. Thomas Manuel
This workshop will explore the art of spontaneous, improvisatory jazz improvisation. Musicians of all levels and abilities are invited to attend. A variety of exercises and techniques will be explored with the goal of expanding each musician's pallet of individual creative expression. Bring your instrument or your voice. This workshop is being held at The Jazz Loft, 275 Christian Avenue, Stony Brook. It is a 10 minute ride from Nesaquake Middle School.
First Aid for School String Instruments
Monica Behler
We all know what it feels like to have a student in tears over a broken instrument! Monica Behler, form the Long Island Violin Shop, is here to give you some basic string repair instruction to get your student back to playing in no time!
Musical Theatre Singing
Steven Altinel
In this session, we will talk about the evolution of musical theatre singing from the "golden age" to what is now being considered the "platinum age." We will also discuss the sounds that are being heard on the musical theatre stage and how to explore these sounds with our students. This session will be interactive and encourage conversations about the art form.
Vocal Play!
Catherine Goldenbaum
Experiment with tools including games, improvisation, and acting exercises to explore and expand your range of vocal color and expression.
---
11:00am Workshop Sessions
Workshop with Tom Chapin
Feldenkrais for Musicians
Stephen Gorgone
In this workshop, participants will be guided through various movement
sequences in order to improve their mobility and better integrate their
nervous and muscular systems. There will be discussions on the pertinent
concepts of the Feldenkrais Method, its application to our well-being as
musicians, and its methodology as applicable to improving one's
Teaching.
Band Roundtable Discussion Techniques and Best Practices
This round table discussion will give participants an opportunity to share strategies, ideas, and practices related to school band.
Chorus Roundtable Discussion Techniques and Best Practices
Catherine Goldenbaum and Mark Kimes
This round table discussion will give participants an opportunity to share strategies, ideas, and practices related to school choir.
Orchestra Reading Session
Tracey DeRose
Join your colleagues to play through a variety of new string orchestra music for a variety of levels. Bring your instrument.
World Music Drumming
Michelle Quigg
World Music Drumming has transformed lives and built community through ensemble drumming, singing, moving, playing xylophones and recorders. Students develop focus, listening, teamwork, and respect. Now being used in over 20,000 schools worldwide, this curriculum focuses on creativity, collaboration, differentiated instruction, hands on music making, student accountability and responsibility, aural traditions, making connections with other cultures, while developing and expanding the innate musicianship of all students. It is a valuable addition to any music program.
Using hand drumming, this session will take you through some of the beginning steps of echo, question and answer, call and response as well as creating rhythm complements. We will culminate our time together using these skills within the music of a traditional piece of music from Ghana. This is not a free-form, "do as you please" drum circle. The music, like the curriculum itself, is highly structured, requiring each member to learn or create parts that overlap and intertwine to form a complex rhythmic whole.
---
2:00pm Workshop Sessions
Jazz Reading Session
Charlie Sarling
Join your colleagues to play through a variety of new jazz music for a variety of levels. Bring your instrument.
Follow the Bouncing Ball
Matthew Matura
Follow the Bouncing Ball is an kinesthetic and interdisciplinary approach to music education that Matthew Matura has developed throughout his teaching career. With a keen understanding of rhythm, string pedagogy, child psychology/development and a love of tennis, these techniques have proven to be worthwhile in the classroom. Kids learn rhythms and principles of music-making in a safe and nurturing environment. A single tennis ball is the cornerstone of this program. The teacher, and with some guidance the students, lead the class in countless activities that use a tennis ball. Activities can easily be differentiated to suit the needs of the class. While many of these techniques have a strong connection to string pedagogy, they have also been used by Mr. Matura in choir rehearsals and general music. Kids are left with a deep understanding of music-making, themselves, their peers and a smile on their faces. This class is applicable to all instrumental, choral and general music programs.
Orchestra Roundtable Discussion
This round table discussion will give participants an opportunity to share strategies, ideas, and practices related to school orchestra
Choral Reading Session
Mark Hegreness
Join your colleagues to sing through a variety of new choral music for a variety of levels.
The Mindful Music Classroom
Stephanie Lengyel and Carol Pacileo
Learn how to incorporate mindfulness practices into your music classroom. These practices can be used K-12 and can be applied to general music, small group instructions, and ensemble rehearsals. Techniques will also aid teachers who are interested in beginning their own individual mindfulness practice. Participants are encouraged to bring a yoga mat and wear comfortable clothing.
Teaching Mallets and Timpani in the School Setting
Dr. Stephen Paysen
This is a workshop on integrating teaching mallets and timpani into the weekly percussion lesson schedule. The workshop starts with first lessons and can include a curriculum from elementary through high school. The mallet work emphasizes reading without looking at the keyboard and starts with first lessons. Timpani emphasizes technique, tuning, and maintenance