---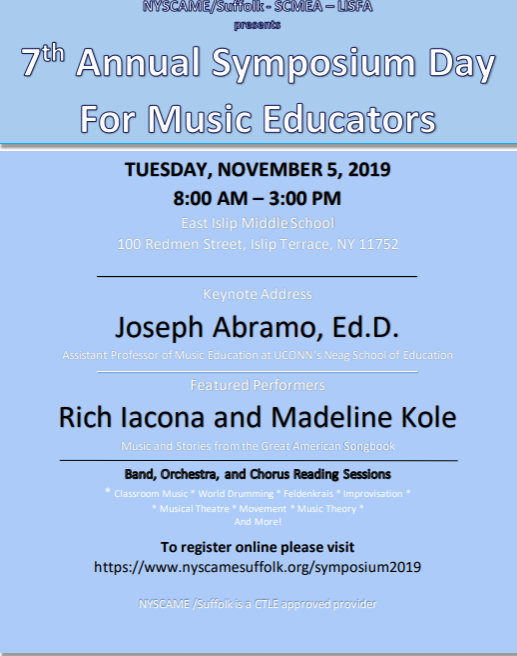 2019 NYSCAME Symposium Workshop Descriptions
Tuesday, November 5, 2019
8:00am – 3:00pm
Click Here for Online Registration
Registration Deadline Friday, November 1, 2019, 5:00pm
---
Workshop Sessions
Keynote: Diversity, Equity, and Inclusion: What does this have to do with music teaching?
Joseph Abramo, Ed.D.
Issues of diversity are at the forefront of discussions not only in our political landscape, but in education, in music and seemingly all aspects of society. How do these conversations about diversity relate to music educators? How do we respond? Combining research, personal stories and practical advice, this keynote explores what diversity means for music educators–diversity not only in our need to reach a more diverse body of students in our music programs, but in the types of music making we engage in with students. We will also discuss how we can grow ourselves as educators through applying ideas of diversity to our own practice.
Joseph Abramo, Ed. D. is an Assistant Professor of Music Education in the Neag School of Education at the University of Connecticut. He is the co-author of the book Music Teacher Evaluation: A Guide for Teachers in the U.S. published by Oxford University Press. He has published over 25 articles and book chapters on popular music, diversity in music education, and teacher education. He is a Past Chair of the Philosophy Special Research Interest Group of the National Association for Music Education. He was born and raised in Stony Brook, NY and taught bands, music theory, general music, and guitar in schools in New York State.
World Music Drumming – Michelle Quigg
The World Music Drumming Curriculum focuses on creativity, collaboration, differentiated instruction, hands on music making, student accountability and responsibility, aural traditions, making connections with other cultures, while developing and expanding the innate musicianship of all students. It is a valuable addition to any music program. Using hand drumming, singing and moving, this session will take you through some of the beginning steps of echo, question and answer, call and response as well as creating rhythm complements. We will culminate our time together using these skills within the music of a traditional piece of music from Ghana. This is not a free-form, "do as you please" drum circle. The music, like the curriculum itself, is highly structured, requiring each member to learn or create parts that overlap and intertwine to form a complex rhythmic whole.
Band Reading Session – Anthony Hayes
Join your colleagues to play through new band music for a variety of levels. Bring your instrument.
Orchestra Reading Session –
Join your colleagues to play through a variety of new string orchestra music for a variety of levels. Bring your instrument.
Choral Reading Session – Shoshana Hershkowitz
Join your colleagues to sing through a variety of new choral music for a variety of levels.
Choral Repertoire Sharing Session – Mark Hegreness
Come share your proven repertoire winners with your colleagues. Each session participant must bring to the session at least one piece of music to share with your colleagues. You do not need to bring sheet music, but please come with a piece in mind to talk with your colleagues about. Youtube videos of the piece are encouraged! Session will be divided into Elementary, Middle and High School groups
Jazz Reading Session – Charles Sarling
Join your colleagues to play through new Level 1-6 Jazz Ensemble Charts. Bring your instrument!
The Art of Improvisation – Thomas Manuel, D.M.A.
This workshop will explore the art of spontaneous, improvisatory jazz improvisation. Musicians of all levels and abilities are invited to attend. A variety of exercises and techniques will be explored with the goal of expanding each musician's pallet of individual creative expression. Bring your instrument or your voice.
Classroom Musicology: Connecting Musical Cultures – Dr. Frank Doyle
Through Western and World Musics, this workshop will explore the similarities and differences inherent in seemingly unrelated musical genres. Much of the presentation will investigate these links through the eyes and ears of the AP Theory and IB Music student.
Da Capo Music Festival NYSSMA Registration System for NYSSMA Hosts – Patrick Hait
With the withdrawal of NYSMusicFest and the upcoming withdrawal of SoloChair from the market, the owner of Da Capo Web Development has created a new NYSSMA Student Registration and Management System. Patrick Hait, a Central Islip teacher, will demonstrate the functionality of the system from the perspectives of a Teacher, a Director of Music, and a Festival Administrator. The various scheduling functions will be discussed in detail. Participants may bring a laptop to test-drive the functionality of the website.
Choral Roundtable – Mark Hegreness
Join this open discussion about choral issues, ideas, and best practices/
Self-Assess Your Way to Success in the Elementary Classroom – Nicole Davidson
In a world that is increasingly digital with changing demographics, it is more important now than ever for each student to have a voice in our classrooms. Learn how to help your young students take ownership over their learning, build confidence, and create a personalized system for self-assessment to use in your classroom!
Preparing Vocal Students for NYSSMA adjudication – Carl J Ferrara
Learn about the preparation and expectations for vocal students at NYSSMA. Emphasis on approach to sight reading, use of accompanist, and vocal technique.
Self-Assess Your Way to Success in the Elementary Classroom – Nicole Davidson
In a world that is increasingly digital with changing demographics, it is more important now than ever for each student to have a voice in our classrooms. Learn how to help your young students take ownership over their learning, build confidence, and create a personalized system for self-assessment to use in your classroom!
Preparing the Snare Drummer for NYSSMA – Frank Cannon
Playing rudiments incorrectly can slow down progress and create bad habits. This workshop will instruct you how to play and teach rudiments so they improve a student's technique and also earn the maximum points on their NYSSMA solo. Proper rudiment training, common solo performance problems, and sight reading preparation will be emphasized.
Feldenkrais for Musicians – Dr. Stephen Gorgone
In this workshop, participants will be guided through various movement sequences in order to improve their mobility and better integrate their nervous and muscular systems. There will be discussions on the pertinent concepts of the Feldenkrais Method, its application to our well-being as musicians, and its methodology as applicable to improving one's teaching. Participants should expect to leave feeling relaxed, revitalized with a greater sense of agency, and with the resources needed to continue improving oneself as an individual and as a teacher.
Surviving AND Thriving in Your First Year – Nicole Davidson
Learn how to navigate the ups and downs of the first year of teaching and how to lay the foundation for success throughout your career. Participants will have the opportunity to share experiences and ask questions in this interactive session!
Recorder Tales and Tips – Donna Basile
In this session we will explore how storybooks and storytelling can be used to develop and reinforce recorder technique, tie songs together for a presentation or review and serve as a vehicle for creativity. In addition, tips for teaching recorder will be shared.
Preparing Timpani and Multi-Perc Solos in the school setting – Dr. Dylan W. Benson
The workshop will help teachers learn how to teach timpani tuning, basics, intervals, and literature to their students in the school setting, with the ultimate goal of helping to make students self-sufficient when it comes to approaching timpani tuning and playing. Troubleshooting nonoperational timpani will be addressed if time permits. Multiple percussion will also be approached from a NYSSMA perspective.
Musical Theatre Singing – Steven Altinel
In this session, we will talk about the evolution of musical theatre singing from the "golden age" to what is now being considered the "platinum age." We will also discuss the sounds that are being heard on the musical theatre stage and how to explore these sounds with our students. This session will be interactive, encourage conversations about the art form, and include student performers.
Getting to the Heart of Music: Using SEL in the Music Classroom – Toni Garza
Every music teacher knows that music elicits emotion. When emotion is introduced, students are engaged. In this session, teachers will understand how to build an intentional community in the music classroom with social and emotional learning using the subject they already know and love: Music. After all, music is a universal language that connects us all.
Instrumental Conducting Workshop – Mark Tse
Bring your instrument and your baton! Experienced and novice teachers are welcome to sign-up for a 12 minute conducting slot. Participants will conduct the 2019 NYSCAME Symposium Reading Band while getting friendly reminders or new tips on how to approach conducting throughout the year to get to the next level.
Creating Artistry in the Middle School Choral Classroom – Dr. Victor Bobetsky
We will discuss some effective techniques for arranging music for school age voices, with particular attention to middle school singers. Participants will read through, learn and perform effective and artistic choral arrangements of authentic folksongs from diverse cultures including Italy, Israel, Korea, Guyana, China, Russia and Spain. They will becoming familiar with the pronunciation of the languages and with learning strategies for teaching the music. The goal is for the participants to become comfortable enough to teach these selections to their own students.
Tracing the Origins of We Shall Overcome – Dr. Victor Bobetsky
This presentation describes the research that led to the publication of the book, We Shall Overcome: Essays on a Great American Song (Rowman and Littlefield, 2015). Dr. Bobetsky presents the origins and history of the song and introduces the audience to several antecedent songs which contain elements of text and/or melodic material that scholars believe may have influenced the "We Shall Overcome" we know. As a result of this presentation, participants will be able to express an understanding of the evolution and development over time of specific melodic, harmonic, and textual ideas that appear in the great American anthem, "We Shall Overcome", that we sing today.
The Top Ten Considerations of Inclusion – Dr. Alice Hammel
There are 10 specific competencies necessary for teachers to successfully include students with special needs in music classrooms and ensembles. Come learn how many of them you already use and if there are others you can include in your teaching this year. It's also fun!
Autism Spectrum Disorders – Dr. Alice Hammel
Students with ASD struggle in the areas of cognition, communication, and socialization. This session is designed to assist with strategies to successfully teach students with Autism.
Kinesthetic Movement to Assess Students who Learn Differently – Dr. Alice Hammel
Some students struggle to let us know what they know. Kinesthetic movement activities can allow students to demonstrate competencies they may not be able to discuss or write about. We will be moving for the entire hour to learn this sequence of activities.
Book Musicals: Bridging the Gap Between Music and Literacy in the General Music Classroom – Megan Ashe
Book musicals have been defined as a musical play where songs and dances are fully integrated into a well-made story with serious dramatic goals. They are able to evoke genuine emotions other than laughter. As a class, the teacher (or the students) can choose a book they have been read or read on their own. The idea is to turn this book into a thriving, complete musical. Students are responsible for creating a script and developing the characters, choosing and/or creating 4-5 pieces of music that fit into the story-line (including the use of incidental music), creating costumes, scenery, lighting, etc. and then performing their plays at the end of the unit. This is a student run project facilitated by the teacher. Ultimately, it holds students accountable for creating a beautiful work of art they never thought possible. This can be applied from upper elementary through high school.