---
Register Now!
Cost: Free!
NYSCAME/Suffolk is delighted to introduce you to the 2020 Knights/Tilles Center String Orchestra Convocation and to invite you to nominate students to become Fellows. This event is FREE OF CHARGE and will begin at 10:30 a.m on Sunday, March 1, 2020 at the Tilles Center for the Performing Arts.
This special event is designed for advanced students in eleventh and twelfth grade to listen, rehearse and perform side-by-side with The Knights, one of the great chamber orchestras of our day.
They present annual seasons at major American and international concert halls, and collaborate with great artists such as Yo-Yo Ma, Gil Shaham, Itzhak Perlman and Joshua Redman. You can meet The Knights in this introduction by Yo-Yo Ma.
Please find three attachments for your high school orchestra teachers:
Knights Convocation Student Invitation 2020. This letter has requirements and forms for your students.
This event is presented in conjunction with Suffolk NYSCAME and Nassau NYSCAME. CTLE or In-Service credit is available to any teachers who spend the day observing the event.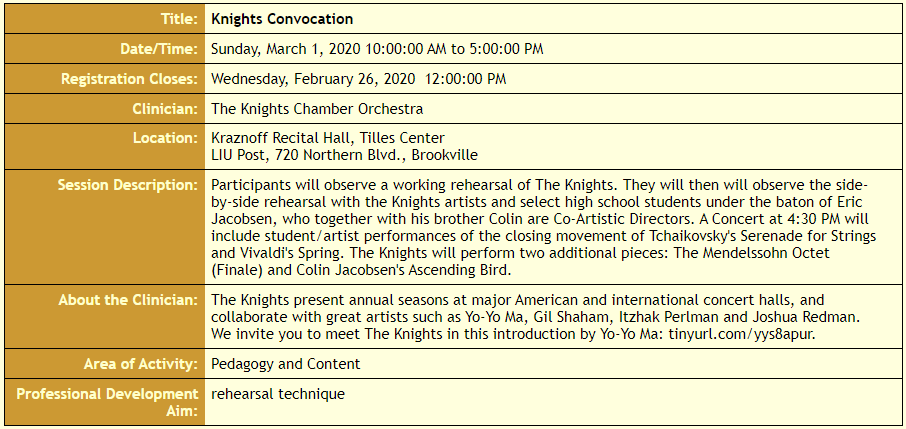 Register Here
Cost: Free
Questions can be sent directly to:
Susan Weber
Orchestra Manager, Knights/Tilles Center String Orchestra Convocation
516-551-6418
Thank you for your consideration!